The Schlossberg Years (1983-1989)


Two of three IPL game prototypes for Intertainment Projects Limited, a never-completed Location-Based Entertainment Center.

My first position in "new media," which at that time didn't really have a name, was at the New York design offices of Edwin Schlossberg Incorporated, one of the first firms specializing in interactive exhibits and attractions. I eventually came to refer to what I did there as "experience design." While at Schlossberg I worked alongside wonderful colleagues who went on to do great things, including Michael Joyce, Michael Welles, John Butterfield, Marnie Jamieson (who now designs fantastic furniture), Dennis Cohen, Andy Proehl, Steven Meyer (now a special effects director/supervisor) and Karen Sideman (now Creative Director for the Sally Ride Science Club) and many more.
None of the projects I worked on are featured on the company's current web site, but here are a few examples of the many projects with which I was involved:
Interactive Projects Limited [IPL] (1983-1989): As far as I know, this was the first attempt at what later came to be known as "location-based entertainment." It was an internal project that was on-again-off-again for the seven years I worked there. IPL was a nightclub containing multiplayer games that combined competition and cooperation, many with electromechanical and tangible interfaces (including interactive media such as laserdiscs). There were to be twenty games throughout the 45,000 square-foot venue, although we designed well over forty in the course of the project.
My early role involved analyzing game logic, drawing flow diagrams and writing concept descriptions for all the games, under Craig Southard (who later went on to work at Lucas Learning). Later, I initiated a playtesting program, and worked with Athomas Goldberg (now with Electronic Arts Vancouver) to mock-up and playtest numerous games. Later still, I became a producer/lead game designer, writing software specs and overseeing the design of about half a dozen games. The funding was pulled once again in 1989, and I left the company shortly thereafter. Something similar to what we envisioned was eventually realized by DisneyQuest in 1998.
Museum and "Entertainment Real Estate" Concepts: Over the course of my tenure there, ESI developed numerous concept designs, many of which were never built. My role typically involved content research, concept design and writing of the final concept report. Eventually I took on the additional role of Assistant Project Manager. The following are a few examples of ESI's concept work.
Tech 2000 Gallery (1989): The "first ever" museum designed to showcase interactive media (and my first ever project management gig) had to be completed in 6 months with a budget of $100,000 in 20th Century Dollars. This stunning feat was pulled off by the stealth team of Michael Joyce, Marnie Jamieson and Andy Proehl.

We wanted to avoid the feeling of being in a roomful of computers, so to emphasize the human aspect, we commissioned these plaster castings, which could be wardrobed to reflect programming changes.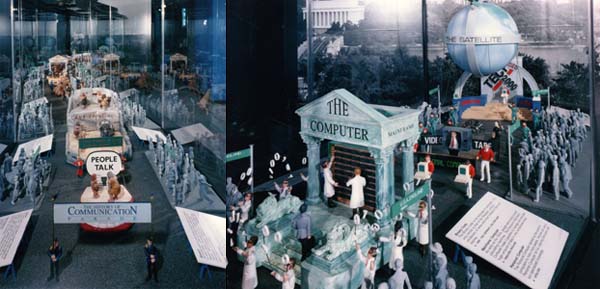 Instead of a traditional graphical timeline, we designed a parade commemorating the history of communication. The binary jugglers were one of the many humorous details in this diorama.
The Innovation Station (1989): The last project I worked on at ESI was a wacky interactive machine for the Henry Ford Museum that was designed to teach mechanical problem-solving to kids. There's actually a very detailed description with a ton of pictures at: http://www.marcdatabase.com/~lemur/rb-is.html. It was a fun project to work on and won an exhibit design award.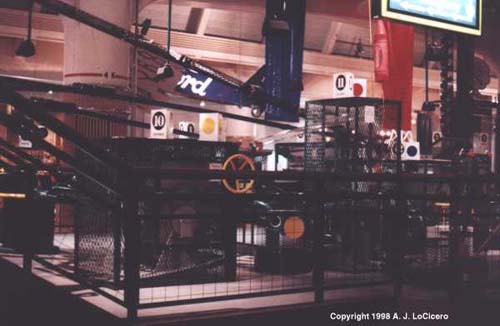 The Innovation Station, Ford Museum (image by A.J. LoCicero)