Mapping the Unfindable/Norman Klein (2004)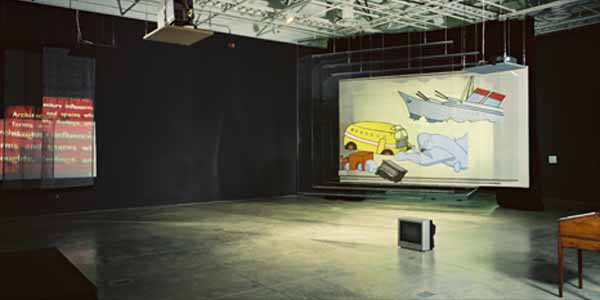 An exhibition celebrating the work of L.A. icon Norman Klein.

Mapping the Unfindable was an exhibition at UC Irvine's Beall Center for Art and Technology celebrating the work of Norman Klein, Los Angeles writer, theorist, media historian, urban philosopher, cultural critic and new media experimentalist. This unique installation/exhibition brought together Klein's major works for the first time to explore their interweaving themes:
The relationships between collective memory (and amnesia), mediation, and power
The creation of illusion and scripted space—from special effects to animation to digital culture
The thin line between fact and fiction, between the "social imaginary" and historical record.
The centerpiece of this exhibition was a gigantic replica of a cel animation taken from Klein's book Seven Minutes: The Life and Death of the American Animated Cartoon (1996). This beautiful, multi-layered painting was executed on large sheets of plexiglass in a ridiculously short period of time by Venice-based painter Alexandra Dillon. I co-curated the exhibition with Indi McCarthy and Norman Klein.