Bliss.com (1997)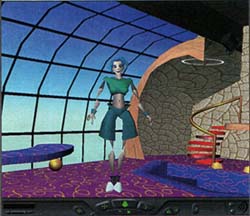 A 3D character created to demonstrate SGI's Cosmo VRML Browser.
To see Bliss in action, visit The Bliss.com Page on the Internet Archive.
Bliss.com was a Web3D character that was commissioned by Silicon Graphics to demonstrate Cosmo, their then-new VRML Browser. SGI contracted Blitcom, co-founded by VRML co-creator Mark Pesce and motion capture animation producer Jan Mallis. I developed the character, wrote and directed one live motion-capture and five pre-recorded episodes that were presented at SIGGRAPH '97. Bliss was a fictional artist, controlled by a live motion-capture actor, who created work out of material she appropriated off the Internet. Playing on Sandra Bernhard's 1990 one-woman performance film, "Without You I'm Nothing," Bliss describes a conversation with her shrink, "Eliza," about the emotional challenges of being a person who "only exists when the user opens the browser." The piece culminated with Bliss noticing the live actor controlling her, and mistakenly believing that she was controlling the actor. Bliss also did a real-time, networked performance with a live dancer at Electronic Cafe.